Ten Ways to Introduce Competition to Young Tennis Players
By Jorge Capestany, PTR & USPTA Master Professional and member of the USTA 10 & Under national committee.
Our sport has a problem. Young players across the country are becoming experts at practicing our sport, but are illiterate when it comes to playing our sport. When you ask parents and coaches why this is the case they tend to give a similar answer… "My kids can't play yet". Therein lies the dilemma for tennis. In this article, I hope to show you 10 ways that you get your 10 & under payers into competition. But first, let's take a look at 2 important areas…
Redefining Competition, and
Other Sports models
Redefining Competition: One of the obstacles in moving young players into competition is the perception by parents and coaches of what competition actually is. While playing an actual match is one form of competition, it may be above the skill level of many of our young players. However, that cannot be where the conversation ends.
Other forms of competition are available but rarely considered. These may include skills competitions where the players execute certain tasks and skills that they can do. This can be done as individuals or as teams. An example would include dribbling the ball down 5 times or rolling the ball along the ground through 2 cones. These skills competitions are essential for what we call the pre-rally players. This comprises the majority of kids in the 4-6 year old age group.
Other sports models: My daughter is an adult now and played D3 College tennis. But when she was a young child of 6-7 years old, I was like many other parents and tried the "sports buffet" options that were available in our area. My wife and I are both tennis teaching professionals so wanted to make sure we did not force our daughter into tennis. So we did what most parents did, we enrolled her in a variety of sports like soccer, T-ball, karate, volleyball, and other sports just to see what she liked the best.
Our thought was that one of these would emerge as her favorite and that would be the sport she would pursue on a more serious basis. But there was one big difference between our sport and all those others and I did not understand it until I registered her for these other sports.
Every time we signed her up for another sport, we got an information sheet that included two things.
1) Dates and times for when the practices were.
2) Dates and times for when the games were.
In T-ball, I was a little startled because she had a game scheduled within a week of the sign-up date. I thought to myself, "she can't play baseball yet" but guess what, we took her to the "game" that first Saturday and they played. It was ugly and confusing, but all the kids competed that day and they had a blast.
In contrast, I thought about what happens when a parent takes their kids to my club as part of their own sports buffet. For years we had kids practicing for up to 2-3 years before they finally got a chance to Play, and then it was typically a USTA-sanctioned tournament where they got pummeled and had a poor experience.
It is a wonder we could retain any kids at all!
The bottom line is there are countless families and kids "trying on" different sports to see what they like best. Most of us teach tennis and therefore would agree that tennis has more to offer than other sports do, but the problem is we lose players out the "back door" because they never get a chance to play or compete.
When tennis gets compared to the other sports they are "sampling", we often lose out. No child has a dream to be good at practicing tennis; they want to be good at playing tennis!
So let's shift to what some solutions may be to get our young players experiencing some sort of competition. Below I will discuss 10 ideas that have worked well for many in the industry.
1) Progression of Competition: Remember that with young players, many families are still just trying tennis out to see if they even like it, so we have to make it as convenient as possible for them. I like to progress kids through competition in the following steps.
• Competitions within the class they are already coming to.
• Competitions outside their class but still at the facility (club) where they practice.
• Competitions outside the club, but that are informal and have set start and finish times and a non-elimination format.
• Competitions outside the club that are further away and against other players or clubs. Perhaps on a Junior Team Tennis (JTT) team.
• USTA Tournaments
I know I have made mistakes when I have tried to ask for too much commitment from these still uncommitted families. If you ask them to give up a whole day and travel far away, they will lose interest. Just remember what the local soccer and T-ball teams do. They have nearby competitions that get wrapped up within an hour or two at the most. That is who we are competing against.
2) Skills Competitions: Let's dig into this concept a bit more. If you are armed with a bunch of good games that have a tennis-specific purpose, you can offer endless games for a skills competition. The Skillastics for Tennis program is a great start and will give you a lot of ideas to get started. Do this test, bring your class of 5-6 year olds together and ask them… "Who wants to do a competition?" and you will see how they typically scream out and say "yes".
3) Play with Parents: In my early years, I coached a lot of high-performance players and was fortunate enough to develop 3 USTA national champions. During these years I would have told you that parents should stay out of their kid's tennis as much as possible, but now I know better. At my current club, we try to be the club where family tennis reigns. In fact, all 3 of those national champions had parents that would spend a lot of time with them on the court in addition to the time the players spent on the court with me.
It is preferable that parents introduce the sport to their kids because kids like to do stuff with their parents. At my club, we have implemented some very family-friendly policies that drive more kids and parents to get on the courts together. This helps the players get the necessary court time they need to improve. I always make sure I educate the parents on what skills and games they should be doing on the court with their kids. This way I know the time is valuable and is helping the kids become better. Below is an example of just one policy that we have which promotes parents playing with their kids…(from our website)
Parents/Kids Play for FREE: Again this year we will allow parents of the players in our junior program to play free with their kids at no charge.
Here is how it works...
• The child must be a member of the Dewitt Tennis Center ($160 per year)
• The child must be enrolled in either a clinic or taking a regularly scheduled weekly private lesson.
• The above will ensure that each player has a walk-on pass, which allows them to play for FREE when booking the court no earlier than 24 hours ahead of time.
• Anytime a player and parent want to hit together, they must book the court using the walk-on guidelines (24-hour limit)
• The parent does not have to be a member of the club nor do they have to pay court time! - Their child's walk-on pass will suffice.
• The parent can only hit with their child and not any other kids.
4) HS Players & Mentors: We have used HS players as mentors assigning them a kid to play with once a week. This has the added advantage of helping the young player have someone to look up to and the HS players with an opportunity to build leadership skills. All the play has to happen at the club and is not allowed to happen outside of the club.
We have had lots of HS players that have jumped at this opportunity because it is a fun way for them to earn service hours for their National Honor Society. Again, the key is training the HS players on what they should do to ensure the time spent on the court is valuable and helps the younger player to rally as soon as possible. I have seen many of our more experienced HS players be able to rally a ball with these young players because they have better control. In many cases, these same young players are not able to sustain a rally with another player of the same age.
5) Promote Play in Your Publications: Currently, we use the USTA's Junior Team Tennis (JTT) program to get our players playing. It took years of tweaking but now we have more than 200 kids playing competitive matches every week during our indoor season (Oct-Mar).
But before that, I swiped an idea from what other sports were doing and started listing both practice times AND play times for all our classes. We used the USTA Play Day program for our play times. We did this for all our kids classes and below is an example of what it looked like for our Grades 2-3 class in our publications.
---
Grades 2 - 3: This class plays on the same 36' x 18' court. These are now the new USTA rules for this age division. The main focus changes to developing rally skills. Competitions are introduced at this level. The main goal of this class is to get players to be able to rally the ball and play a match.
PRACTICE DAYS                                        PLAY DAYS
Tues 6-7 pm and/or Sat 9-10 am                 Saturdays from 5-6 pm
---
NOTE: We decided to raise the price of the practice day slightly so we could include the play day for free. So just like other sports, our families saw that tennis was a 2-day a week commitment.
I must admit that at first I was hesitant to offer a 2-day per week option, but think of hat other sports do. Or even working with a piano teacher. Would a parent tell a piano teacher that want their child to take lessons but can only commit 1-hour total per week to doing it? I suspect most piano teachers would tell them that it's not worth it if that is only time they can commit to learning the piano.
So many tennis facilities need to rethink what they offer and can expect from their young players. While this worked at our club, it might not work at every club.

6) Bring a friend: Not only is this a great idea for expanding your lesson base, but it also is a fact that kids would prefer to play on teams and with friends. When we individually ask kids if they would like to come to the next Play Day, we might get a few to do it. However, if we go up to two friends and ask them together if they would like to come to the next Play Day and tell them we'll make sure they get to play together at least for some of the time, we covert almost everyone we ask.
7) Understand Kid's Characteristics at Various Ages: Kids are not small versions of adults. We cannot just use the same games and techniques that we use with older players. The USTA has some great guidelines called Kids Characteristics that are important to keep in mind when creating play opportunities for 10 & Under players.
Some of these included in the table below…
Kids Characteristics by Age: (Ages 5-6 | Ages 7-8 | Ages 9-10)
Ages 5-6
1. Great difficulty with fine motor skills
2. Reactions and anticipations skills are slow
3. Self-centered, lack a sense of time, and are impatient
4. Listening and following instructions can be very difficult
5. Scoring, winning, and losing are not understood
6. Throw with limited rotation and catch with two hands
7. Rallying over the net may be too advanced
8. 30-minute practice sessions are optimal
9. Practice session should be fun, active and interesting
Ages 7-8
1. Gross motor skills are developing
2. Reaction speed is improving, tracking skills remain difficult
3. Beginning to cooperate and share with others
4. Better at following directions
5. Learning the concepts of winning and losing
6. Throw has more body turn and weight transfer
7. Beginning to understand scoring and line calling
8. 45-60 minute practice sessions are optimal
9. Practice session should be fun, active, and positive
Ages 9-10
1. More refined motor skills & fluency in practice
2. Reaction & anticipation skills are much better
3. More independent and able to share
4. Able to concentrate and focus for longer
5. Able to understand the concepts of winning and losing
6. More rotation in serves and groundstrokes
7. Can be taught basic doubles positions & tactics
8. 60-90 minute practice sessions are optimal
9. Practice session should be fun, positive, and rewarding

8) Race to the Rally… Not a Race to the Yellow Ball: We all know that there are some parents and coaches that still think that scaling the game to the right size for kids is a bad idea. These are the same people that are looking to move through the various balls and courts as soon as they can. They are literally in a race to the yellow ball which they think is the ultimate goal.
Therefore, at our club we have adopted our own mantra which is "it's a race to the rally". When I work with young players I am in a race to get them to be able to rally because when they can hit it back and forth, they view themselves as players, even it is looks a little ugly at first. Therefore, I make sure I arm the parents, HS mentors, and pro staff on all the ways that they can help young players build their rally skills. Keep this in mind and try to implement some rally-builder games (competition) within each class.
9) The power of teams: Being with friends is powerful way to attract young players to do anything, but being on a team with friends is even more attractive to young players. Try to hold events that allow kids to be with their friends if at all possible.
10) Consider Parent's Schedules: Many clubs around the country have figured out that parents are so busy that Mom and dad find it difficult to spend time together. Many couples are looking for a regular weekly date night, but life and the busy schedule of a family can make that difficult to plan.
Consider using this fact in planning your next competition for 10 & Under players. I have a friend whose club caters to this exact need ever well. Below is an example of what his postcard says…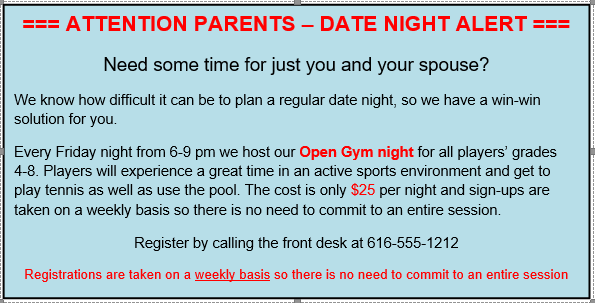 So you can see that there are several creative options for introducing competition to young players. Not all the ideas listed in this article will work for every club.
My hope is that you can pick the few that might move the dial at your club and get these young players hooked on the fun of competition.
Lastly, let me encourage you to check out what other sports are doing in your own town. Things may be different where you live but there is no better way to see what the competition is doing than simply checking them out.
If you do not have a young child in your family ask friends that do, and ask them what they are having their kids play. I have always gotten some great ideas by simply learning what else is around my area and offering things that seem to be working.
Good luck on the courts and… Let Them Play!

Thanks for visiting our site, make sure you check out all our FREE tennis drills and courses at the links in the upper menu bar!
Want more from us? Start your $1 trial offer and get FULL ACCESS to our famous 2,000+ tennis drills library for 14 days - CLICK HERE.